Overview
Brittany is a General Carpentry apprentice specializing in framing houses. She graduated from Sherwood in 2016. She participated in the Building Careers From The Ground Up Program and accelerated OYAP dual credit level 1 carpentry couse.
Mentor Profile
Who:
Brittany Farrow
What:
General Carpentry apprentice
Why:
Joining the trades is my way of having my career with endless opportunities to go big
Education:
Carpentry
Average Salary:
$40,000 – $70,000
Technical Skills:
Experience working in Wood Products and how to select the best material for a job, Mathematics
Soft Skills:
Strong Analytical Skills, Reading and Comprehensive Skills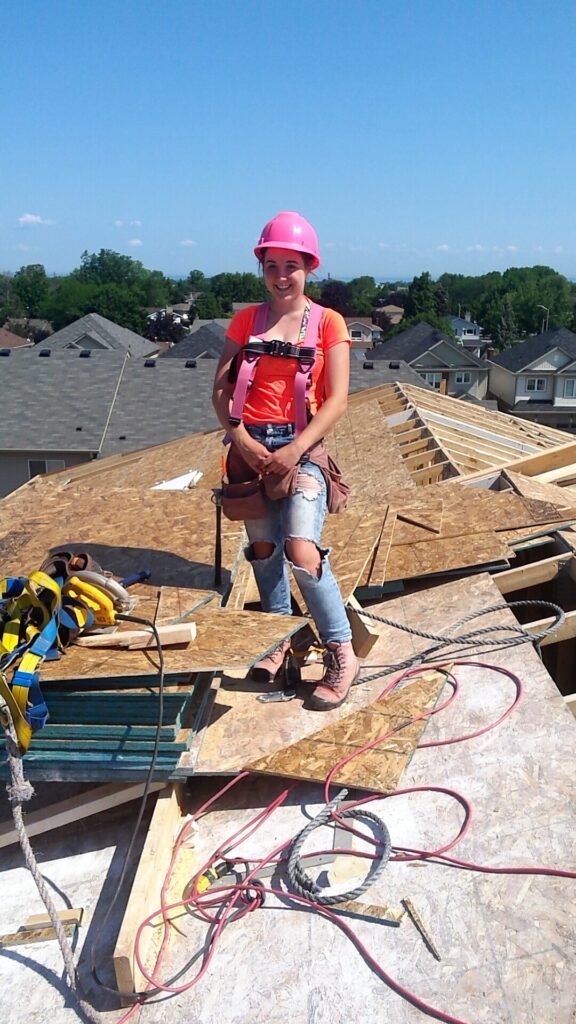 Let's Know More:
1. I'm not sure what career path options are available to me. Can you help me make a final decision?
There are many jobs you can choose as a career. Make sure it is something you enjoy and don't let anyone choose it for you. There are almost a hundred and eighty different trades including hairstyling, baking, plumbing, etc. But there are many other jobs out there that can interest you. Don't think you need to go to university or even college to go into every career too.
2. What qualities do you need to succeed in this field?
To succeed in my field you need to have good understanding of how the house is built. Not only do we need to know our part of the house but we need to know what other trades need to finish the house. You also need to be able to read a blueprint, how to prioritize and plan ahead. And like almost every job you need to be a hard worker, motivated, and passionate about what you do to allow you more opportunities in the field.
3. How do you get to be creative on your job?
Be creative on my job is when we figure out a unique easier way to build part of the house or when we design a ceiling for the owner.
4. What kind of professional development opportunities are available in your career?
In my field there are many opportunities for professional development like being a supervisor, running your own crew
or even expanding from carpentry and becoming a builder/site supervisor.
5. What are your most proud of?
I am most proud of how far I have come and the houses I have built. I have learned so much in the few years I have
been a framer and when I drive by the houses I have done I am so proud of myself that I actually did it.
6. What are some lessons you've learnt the hard way?
A lesson I've learn the hard way is learning what my career would be. I struggled to find what I wanted to do with my life and went through a lot of obstacles to be where I am. I couldn't have done it without my parents and my two favorite teachers by my side.
7. What is your motto?
My motto since I was a child has always been "go big or go home" and joining the trades is my way of having my career with endless opportunities to go big.
Find More Information
Ontario Youth Apprenticeship Program
For more information contact:
YWCA Hamilton
(905) 522-9922
info@ywcahamilton.org
Funded by:
**img**
In partnership with:
**img**