Overview
Kerry received a BA from Carleton University in Communication Studies and Sociology. Fifteen years after earning her degree, Kerry decided to apply to the Women in Skilled Trades program at The Centre for Skilled Trades in Burlington for General (Construction) Carpentry. After graduating, she had the opportunity to work in eco-construction, work on heritage restoration projects, and eventually starting her own small business doing specialized renovations to preserve the character of older homes while modernizing their layouts for homeowners' current needs.
Mentor Profile
Who:
Kerry MacMullin
What:
Restoration Carpenter
Where:
Mend & Transom
Why:
It is truly empowering feeling to have a vision for what a house would look like in your mind, and be able to plan and execute that work with your own two hands.
Education:
Construction Carpentry, BA in Communications
Average Salary:
$30,000 – $80,000
Technical Skills:
Reading blue prints, math, accurate layout & measurement, safe use of tools, cutting and assembling a variety of materials.
Soft Skills:
Strong reading skills, attention to detail and accuracy, communication skills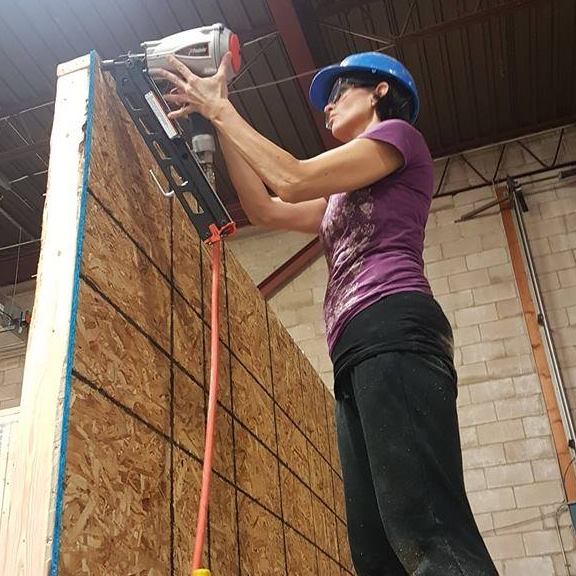 Let's Know More:
1. I'm not sure what career path options are available to me. Can you help me make a final decision?
I wish I knew that working in carpentry allowed me to combine my love of creation, my inclination towards problem solving and the meditative benefits I feel when working with my hands.
2. What kind of professional development opportunities are available in your career?
There are endless professional development opportunities in carpentry. Carpentry is such a broad umbrella: any part of a house you can think of (outside of plumbing and electrical) falls under carpentry. You can specialize in whatever interests you; you can run the project and subcontract out whichever components you don't enjoy. If you choose to specialize, there are many free courses offered by manufacturers to learn how to better use their engineered products.
3. What are some lessons you've learnt the hard way?
The biggest lesson I learned was not to undervalue my skills or settle for the lowest bidder, both in a job offer
situation and with a client bid situation. It's easy to assume that you need to take the first thing that comes along, especially when you're just starting out and/or your financial pressures are high. You are sought after in the
skilled trades in a way that you are not in other professions. It pays to negotiate for what you want, insist on working with respectful people, and ensure you're working in a safe environment. In short, know your value and humbly stand up for it.
4. Can you tell me how your job helps or works with the community?
I find myself working with people who have traditionally had a hard time navigating the renovation process: single women, new Canadians, and senior citizens. It gives me great pleasure to make my projects inclusive and empowering.
Find More Information
Ontario Youth Apprenticeship Program